In honor of Bacon Camp (oh yes I did just say
Bacon Camp
), I thought I'd post a few nommy ideas for using bacon - and really, it's not like bacon needs any help at nomosity. But, I noticed I reference
prosciutto a lot in my recipes
and wasn't giving bacon a fair shake - especially given how delicious it is.
I had a pizza in our company cafeteria the other day that was pretty fab (oxymoron?), and it featured perfectly crispy bacon, thinly sliced red onion and fresh arugula lightly dressed in balsamic. Divine.
MY dream pizza starts with a yummy creamy white sauce, gets topped by mozzarella and provolone, then sprinkled with balsamic onions and crispy bacon. Maybe some fresh tomato. Hell. Yes. BLT pizza!
I don't think you need a recipe for that though, so fend for yourselves.
Another thing I simply can't pass up (but do, all the time - man I hate calories) is baked potato soup - oh man, the potatoey creamy goodness with fresh green onions, stringy, melty cheese, and crispy bacon bits. . .
Here is a Bob Evans sponsored recipe
. Please note that I have never heard of Bob Evans.
Of course I've shared my
prosciutto wrapped asparagus
, and this recipe can easily be made with bacon. Probably even turkey bacon if you must.
And what about those
angels on horseback
? No wait, seems that's oysters, and I don't dig oysters. Maybe you do. Is there a cute name for the
bacon wrapped shrimp
? There should be.
Another delicious bacony treat - salads. Yes really! You can sub the pancetta in
this recipe
for bacon, or try one of my
picnic faves
. And yes, I know there is mayo in it but I prefer not to talk about it. You can even
go South Beach on it
if you'd like. Well, South Beach-esque.
A new passion of mine that oddly enough - is entirely bacon free:
Purchase these.
You will thank me. Also, THEY ARE VEGETARIAN. So, go on, my Jewish and non meat eating friends that still remember the wonderful taste of bacon - indulge.
For the non-traditional bacon lover -
a bacon cheeseburger cake perhaps?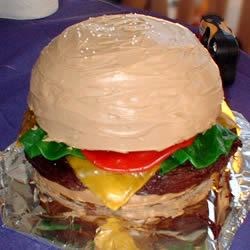 When all else fails - just fry it up or pop it in the oven for 20 minutes and crunch away. Just, please - don't wear it.